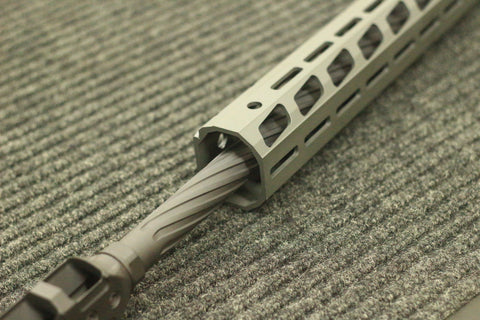 Match Grade Drop In Replacement Barrel For Magnum Ruger RPR
LRI is proud to offer our premium match grade, cut rifled stainless steel barrel blanks for the Magnum version of the Ruger Precision Rifle.  All of our RPR replacement barrels are fitted and chambered using our carefully developed process on state of the art CNC turning centers.  These are "drop in" replacements with no additional machine work required.
WE STRONGLY ADVISE TO HAVE ALL BARRELS INSTALLED AND HEADSPACED BY A COMPETENT GUNSMITH! We also offer this service: GUNSMITHING SERVICES: RUGER RPR BARREL REMOVAL AND INSTALLATION
Standard features:
Premium grade, stainless steel cut rifled barrel blank
Time-tested/proven conventional 6 Land/Groove Profile
.900" approximate muzzle diameter at 26" finish length
5/8-24, 3/4-24, M18-1.0mm muzzle thread options, gauged using certified ring gauges
Custom Finish Length option at NO EXTRA CHARGE
Precision, Match grade, single-point-machined 11* target crown
Direct replacement, no additional machining required
4 axis CNC engraved Maker's Mark and cartridge designation
Spin polished to high luster finish or optional Cerakote
Additional Services available in our store, just visit and select your options.
NOTES:
RPR barrel orders are NON REFUNDABLE.
RPR barrels are built to order. We have considerable manufacturing resources here and this is how we are able to maintain our sterling delivery schedules.
WHEN you order a barrel from us, the job goes into production, typically within 24 hours. The understanding is that you have committed to the purchase. You do this on our store when you are navigating the checkout routine in the shopping cart. If you are unsure, it's your obligation/responsibility to STOP the transaction at that point. 

K&P Barrel Company will build a barrel in your choice of twist rate, profile, etc. Common twist rates are kept in stock, options that are out of stock will add 1-2 weeks to delivery time.
---
We Also Recommend