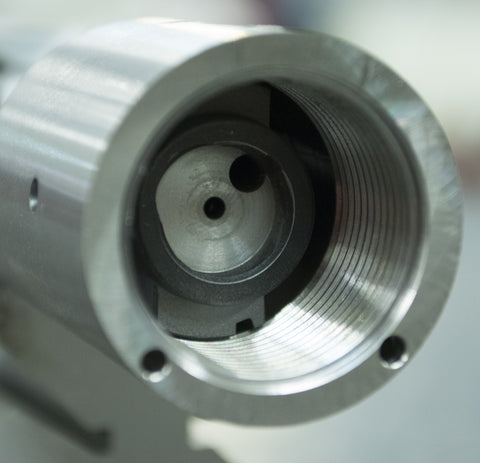 GUNSMITHING SERVICES: Receiver Blueprinting
Blueprinting, or "truing" is a machining process intended to improve the accuracy potential of a factory bolt action by forensically machining existing features to ensure they are square, parallel, and concentric.
LRI pioneered the use of CNC Vertical Machining Centers to blueprint bolt action receivers in 2009. From that very humble beginning, we've continually refined and improved the process to where our work can stand right along with many custom aftermarket receivers made today.   The final chapter to this giant leap was when we added 5 axis machining capability in 2019, further demonstrating our commitment to being the tip of the spear in the gunsmithing/gunmaking industry.
LRI, 2010:
LRI 2019:
In 2013 we introduced another industry exclusive; Single stroke diamond-honed receiver bores using a Sunnen LBB-1660 Connecting rod hone fitted with custom-made tooling.   Honing ensures the receiver bore is round, taper-free, and void of inclusions.  It also provides a reliable surface for the setup process in the milling center.
In 2019, we further ensured our place as the "tip of the spear" by adding TRUE LIVE  5-axis CNC machining capability. for all receiver blueprinting operations.  This is an industry first!
With this powerful capability, we completely revised our work statement with custom-made tooling to deliver aerospace quality machining.  
LRI Remington M700 Blueprinting fixture:
LRI Winchester M70 Blueprinting fixture:
The receiver work is but one part of this effort.  Bolt work is also a fully automated process using wireless intuitive probing routines and programs.  In addition to the fundamental blueprinting service, we can also add a number of custom options; Striker pin bushings, alter bolt face diameters, add M16 (and "mini 16") extractors with dual ejectors, fluting, skeletonized handles, faceted bolt shrouds, and our Time&TIG service.
LRI makes its own mini and std size M16 extractors in-house.  We do this to ensure a clean installation and to standardize the process.  Our extractors are billet machined from 4140 Chromoly steel and heat-treated/tempered by an aerospace heat treatment facility located in the Pacific North West.
LRI Std M16 Extractor upgrade:
LRI Std M16 Extractor and Dual Ejector upgrade:
LRI Billet steel M16 Extractor:
Detail of M16 extractor machine work to M700 bolt:
LRI Mini M16 Extractor upgrade:
This is not art. It's the exploitation of state-of-the-art manufacturing equipment and software combined with over 3 decades of firearms and machining experience.
Challenges solved with our process:
Honing:
Single stroke diamond-honed to deliver a straight/round ID bore
Honing delivers a superior internal bore surface finish
Honing sizes the bore for proper clearance/function
Honing creates a qualified reference feature for later machining ops
True live 5 Axis CNC receiver blueprinting:
Wireless, intuitive electronic probing eliminates errors from bushings and mandrels
Automated setup eliminates the risk of human error
Reduction in tool library eliminates tolerance stacking
Consolidated machining operations improves dimensioning accuracy
Exceptional Parallelism between bolt and receiver lug surfaces
Use of a "Higbee" lead thread to eliminate the risk of a torn or galled thread start
Zero part distortion from work holding
Taper free receiver ring threads with the use of thread milling tool paths
Standardization of threads via certified gauging
Misaligned optic base holes eliminated 
Superior surface finish from solid work holding and aerospace quality machining and tooling
Bolt blueprinting:
Intuitive electronic probing of all surfaces eliminates alignment errors
Repeatable dimensions for a reduction in barrel work setup times
Single setup for exceptional dimensional control
Setup "averaged" over the entire bolt body for parallelism/concentricity
Exceptionally good surface finishes
Consolidated tool package reduces tolerance stacking
Remington M700:

Winchester M70:

The end result are features and a level of precision that were once the exclusive domain of custom actions.
Remington M700 Tier 1 Blueprinting Standardized Features:
Single Stroke Diamond Honed ID receiver bore
Higbee thread lead on receiver ring threads
Receiver ring ID bored
Thread milled receiver ring threads
Reconditioned Receiver Lug Abutments
Bolt nose resurfaced
Bolt face resurfaced
Bolt Lugs resurfaced
Remington M700 Tier 2 Blueprinting Standardized Features:
Retains OEM threads, used for Savage type barrel nuts for "Remage"            setups or for fitted barrels.
NOTE:  Direct fit barrels MUST be altered for Headspace and Breech Clearance!  
Single Stroke Diamond Honed ID receiver bore
Reconditioned Receiver Lug Abutments
Bolt nose resurfaced
Bolt face resurfaced
Bolt Lugs resurfaced
Optional Features and Services:  (Both Remington Tier 1 & 2)
Striker pin Bushing installation
Time and TIG bolt handle
Turn Striker Pin to .0625"
Std M16 Extractor installation
Mini M16 Extractor installation (.223 bolt face only)
Dual ejector upgrade 
Clip Slotting receiver for M40 style lugged optic base
LRI External side bolt release installation
Pinned Recoil lug (limited to LRI lugs only)
Wide variety of bolt fluting options
Jeweled bolt body
8-40 optic base hole enlargement
Fluted Bolt shrouds
Skeletonized bolt handle
Extended internal magazine modification
AIAW magazine modification to the receiver
Filling tang groove on M700 SS actions via TIG-welded silicon bronze
Tactical bolt knob installation
Single and multi-colored Cerakote application
Parkerize coating application (limited to carbon steel actions only)
Glass bead blast finish (limited to stainless actions only)
Installation of aftermarket bolt handle
Fitting aftermarket bolt to receiver
Reconditioning factory recoil lug (ID bored and surface grinding both sides) 
Winchester M70 Tier 1 Blueprinting Standard Features:
Single Stroke Diamond Honed ID receiver bore

Receiver ring face machined
Recessed forward lug face
2.5* draft angle on forward side of the lug, 4* side drafts, and .100" corner radiuses avoid tearing up bedding when the receiver is removed from the stock.
Thread rings opened up to 1-1/16-18 threads per inch. Adding circumference and increasing the thread pitch adds surface area to the threaded joint -- a perfect complement to M70's short tennon length.
Truncated "Higbee" thread start
Faced lug abutments
All machined features either have chamfers or edge breaks
Fully CNC machined in a single setup using true 5 axis machining capabilities.
Conservative tool package greatly reduces tolerance stacking.
Winchester M70 Optional Features and Services:
Striker pin Bushing installation
Turn Striker Pin

 

to

 

.0625"
Wide

 

variety of bolt fluting options (CRF actions excluded)
Jeweled bolt body
8-40 optic base hole enlargement
Extended internal magazine modification
Tactical bolt knob installation
Single and multi-colored Cerakote application
Parkerize coating application (limited to carbon steel actions only)
Glass bead blast finish (limited to stainless actions only)
Installation of

 

an aftermarket

 

bolt handle 
M70 Receivers Currently Supported:
Winchester Pre-64 Model 70's, all years.
Later Model 70 variants to follow.
M70 Blueprinting Process - IMPORTANT:
Winchester M70 receivers are a casting, this presents a unique challenge because clamping the action in the required manner causes the receiver to distort due to the irregular exterior.  Part of our process is to "deck" the bottom of the action so that it is flat.  Because of this, any finish on the bottom of the receiver is machined away.  This makes carbon steel actions more vulnerable to corrosion.
M70 Receiver ring threads:
The threads on the M70's in the controlled round feed and push feed configurations is 1-16.  One inch diameter, 16 threads per inch.   The historical process of "cleaning" up existing threads on M70's as part of blueprinting takes a radical turn here at LRI. 
The major diameter of the existing one-inch thread becomes the minor diameter when we enlarge them to 1.0625"-18.   We do this because the M70 threaded barrel cylinder is quite short.  What we are after is increased surface area to better support the barrel in the receiver.  There's no consequence because the receiver ring diameter is 1.350". -The same as the vast majority of other action designs.  The other advantage here is we are effectively waving a magic wand over the action by working with virgin material.  This is powerful as it allows us to make very highly controlled threads with important peripheral features.  In the same setup, we also project the receiver ring face .05" and draft angle the forward-facing surface of the recoil lug.
Proven Performance:
In the spring of 2013 LRI announced a very ambitious project to one of the toughest and most demanding precision rifle audiences in today's shooting community:  SnipersHide.com  
We began offering accurized M700 barreled actions through an internet special.  Since that time LRI's "Sniper's Hide M700 Accurized Barreled Action Group Buy" has grown into the largest and most continuous internet special in the history of the Sniper's Hide website.  
LRI has literally produced thousands of custom-built barreled actions for precision shooting enthusiasts. Our services have gone international with clients from all over the world and to men and women working in Private Security, Risk Management, and Law Enforcement.  The almost decade-long success of the effort validates the process and has ushered a new chapter in how precision bolt action barreled actions are assembled.  Additionally, we have over 150 domestic/international dealers that retain our services for machine work.
You are in good hands.
5 axis Blueprinting the M700:
IMPORTANT:
Finish Limitations with bolts and receivers.
The work LRI performs when blueprinting an action is invasive and extensive.  TIG welding/soldering involves the careful use of intensive heat.  Coatings applied to the bolt must be removed to avoid contamination of the welded/soldered joint.  
Because of this your bolt will require refinishing.  This cannot be avoided.  LRI offers a full menu of finishing options to restore your bolt to pristine condition.
Dimensional limitations with receivers and bolts.
It is very common for LRI to rework an action that has been previously blueprinted by another shop.  We are very comfortable with this in almost all circumstances, but there are limitations.   
Our blueprinting process allows us to preserve the OEM dimension of 1.150" measured from the receiver ring face to the top of the lug abutments on M700 actions.  With "unmolested" receivers this is no problem.  Receivers that have had previous work may or may not allow for this.  It is literally a case-by-case basis as it all depends on how much material was previously removed.
This can add to the cost as it may require custom program editing.
A fundamental of any machining operation is rigid and solid work holding, (clamping the part to the machine in a manner that prevents it from unintended movement).
LRI treats your property with great respect, however, there are limitations.  We cannot guarantee that our fixtures will not damage the surface finish of your receiver.  We are as careful as we can be, but collets and vices are made from tool-grade, heat-treated steels.  They are hard and very tough to ensure a repeatable register for thousands of cycles.  
Because of this your receiver may require refinishing.  This cannot be avoided. LRI offers a full menu of finishing options that will restore your receiver to pristine condition.
Recoil lugs.
Our blueprinting service alters the factory M700 thread dimensions.  They are enlarged to a value of 1.085"x16tpi.   A factory/aftermarket recoil lug cannot be reinstalled without modification.  We must ID bore the hole through the lug for the larger barrel tennon to fit through.   This must be done when clients choose to use OEM or outsourced components.  LRI also surface grinds all factory M700 lugs to bring the two sides to perfect parallelism.  LRI recoil lugs are made this way from the start for a "drop-in" installation.
LRI limits the recoil lug pinning option to LRI brand lugs only.  Our recoil lugs come standard with pin bores drilled/reamed during manufacturing.  The market is saturated with a variety of aftermarket recoil lugs.  Attempting to fixture and archive tool paths for every recoil lug variation in circulation just isn't realistic. 
We offer our lugs in Chromoly, stainless, and 6AL-4V Titanium.
All LRI lugs are finished to a nominal thickness of .300"-.3125"  We offer two profiles.  A "Heavy" Tactical lug in a modified tombstone profile and a "Heavy" Tactical designed to emulate the factory M700 profile.
When selecting your option, choose the M700 profile for "drop in" pre inletted stocks or chassis configurations.  Our standard Heavy Tactical is best suited for gunsmiths comfortable with modifying the recoil lug inlet pattern.
---
We Also Recommend