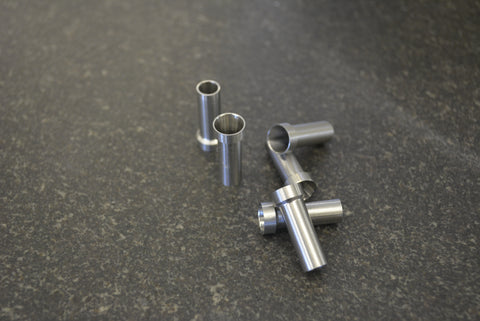 RCBS Chargemaster "Velocity Stack"
The idea came from the injector setups used on Sprint cars and really cool/wild hot rods.
A smooth bell mouthed transition for powder charges to travel on for the last inch or so before dropping into the pan.  The intent is to thwart the frustrating tendency for charges to be "belched" onto the pan as a result of individual grains become partially stuck and piling up in the auger threads of the tube.
When combined with a little tuning of the ChargeMaster parameters, it is very possible to dial in the instrument to run very reliably and predictably.
The LRI Velocity Stack is made from 303 Stainless steel.  They are a slip fit into the auger.  RCBS does a pretty good job of controlling the ID of the tube, however their is a little variance.  As a result we make the tube slightly undersize by design.  A small dab of super glue is all that's required.
For emptying the hopper it's suggested to just lift the front portion of the unit and back flow the residual powder back into the hopper.  Doing so avoids having to remove it.
ChargeMaster Parameters:
Turn on unit and hold EDIT/MEMORY at the same time.
NOTE:  BEFORE EDITING ANY PARAMETERS, IT IS STRONGLY ADVISED THAT YOU TAKE DETAILED NOTES OF ALL EXISTING SETTINGS FIRST
HSP A1, B1, and C1 are the only values I've ever had to work on.  The idea is to tune the unit to throw aggressively for as long as possible, then quickly transition to the slower speeds and creep up on the final charge weight.  Experimentation will reveal what works and what doesn't pretty quickly.
I own 4 CM1500's.  Taking the time to tune all of them and calibrating off one set of weights has routinely shown that single digit Standard Deviation values are possible.  4 of these units keep you busy and allow you to build an inventory of ammunition very quickly.
This setup is also remarkably more scaleable/affordable than the alleged "laboratory grade" units that have shown up over the last few years costing thousands more.
RCBS ChargeMaster 1500 Parameters:
HSP_A1;  Full speed to high speed trickle
HSP_B1:  High speed trickle to slow trickle
HSP_C1:  Slow Speed trickle to final trickle
MSP_A2:
MSP B2:
MSP C2:
SSP_A3:
SSP_B3:
SSP_C3:
SEL:
F_A:
M_A:
SA_A:
W_F:
W_M:
W_5:
---
We Also Recommend