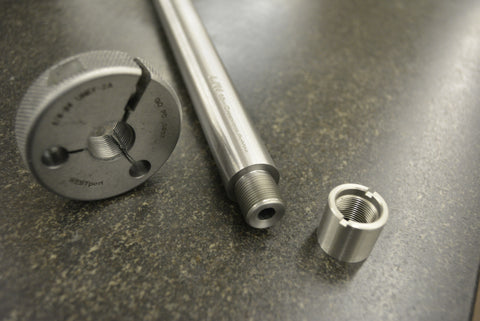 LRI Custom Fitted Thread Protectors
Our thread protectors are designed to serve a dual purpose.  When installed they alter the muzzle to emulate a recessed muzzle crown typical of a sporting type rifle.  This provides additional insurance against accidental damage. 
The innovative notch at the front facilitates easy removal and installation.  We blend our thread rings to a seamless appearing fit.  When assembled, the barrel takes on the appearance of a conventional barrel machined with a recessed hunter style crown.
NOTE:
LRI Thread protectors are typically fitted to the barrel after the crown and muzzle threading work is completed.  The fit and finish shown in the photos cannot always be guaranteed when purchasing the thread protector by itself.  The primary intent of this listing is for customers who wish to add this to a barrel order.
We are happy to make these for you but PLEASE ensure that you measure the outside diameter of your barrel at the shoulder directly behind the threaded muzzle portion.  We will machine the thread protector to the size you provide in the note/remarks section of your order.
All LRI muzzle devices are threaded to Class 2B thread specifications and qualified with certified hard chromed plug gauges from West Port Corporation.  We 100% inspect every single thread protector prior to delivery.  IF your pre threaded muzzle does not allow our thread ring to install, the problem is with your barrel, not our product.  This is why we encourage customers to allow us to fit thread protectors here in our facility.
Because of this we have a zero return policy on thread protectors.
Thank you.
---
We Also Recommend