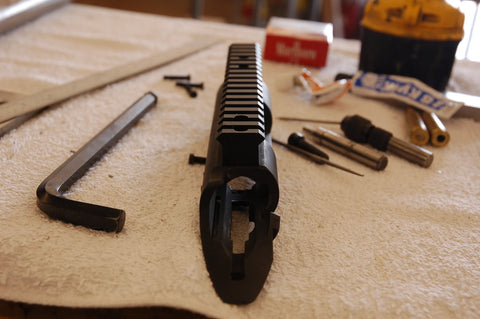 GUNSMITHING SERVICES: Clip Slotting M700 for M40 Style Optic Base
"Clip Slotting" is the popular term for modifying the M700 receiver to accept an M40 Sniper Rifle type scope base.  This service is limited to the Lugged base used on the DARPA XM-3 rifle (and other variants).  
The purpose of this is to attach the scope base to the receiver in a manner that essentially locks the receiver and base as one piece.  The combination of lug and keyed surfaces deliver an extremely robust and dependable mount.  The screws are essentially left with the sole function of holding the base to the action.
The action is modified so that the scope base lug surfaces slip into the registers machined into the receiver. In addition, the ejection port is lengthened and altered to form the double radius feature used on the DARPA XM-3 rifle along the rearward side of the port.  Scope base mount holes are also enlarged to 8-40 on the receiver.
All of our work is performed on a 4 axis CNC milling center.  Our tool paths are sourced from original Remington prints.  To include detail items such as the subtle alteration of the receiver body along the ejection port between the rear bridge and front ring.  
As the drawing shows, the original M700 profile is altered slightly, yet there are no dimensions detailing the modification.   As with many government small arms contracts, a number of private companies are retained to performed this work.  What is "right" is often based on who was satisfying the contract at the time.  
LRI's modification is no different.  The standard practice is to machine a flat on the rear bridge of the action.  We've chosen to vary this slightly by instead machining a track that is the same width as the rear portion of the base.  It offers a cleaner presentation while also providing additional rigidity to lateral impact.
This can make "period correct" replicas a bit of a challenge sometimes.  We install these bases "our way", not how everyone else does.
Please note that this service is highly specialized and invasive.  We are performing an extensive modification to your action that cannot be "undone".  Before committing to this service ensure you know exactly what you are ordering.  
Also note that not all "clip slot bases" are equal.  They all vary to some degree in how they interface with the action.  Ours our no different.  As a cardinal rule, we require that whatever scope base you intend to use be provided with your action.
---
We Also Recommend