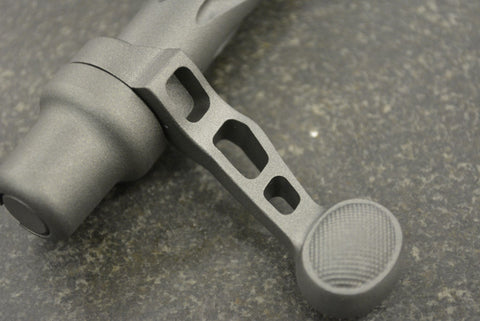 GUNSMITHING SERVICES: Bolt Handle Skeletonizing for the M700
Drilling a series of holes is one way to skeletonize a bolt handle.  At LRI, we pocket machine the center portion so that it follows the handle's natural contour.
The weight savings is minimal.  An 18+lb "gamer gun" really isn't going to benefit enough to even consider this as relevant. In this case it would purely be a cosmetic alteration.
However, everything helps when its an alpine rifle hauled up and down mountains.  Ounces do start to matter and when combined with other weight reduction efforts, full size rifles in the low to mid 6lb weight class are very possible.
There are limitations with this work.  Older legacy Remington handles do no lend well for this service because the transition to the knob is very, very narrow.  The newer version from Remington (RR prefix SN's) are what our machining programs are tailored for.  
If you have an older handle, we will likely have to replace it with the newer style prior.  This will require the entire rifle as we'll perform our Time and Tig service along with any fitting work the stock might need.
The handles we are able to use measure approximately .285" at the narrowest portion of the handle where it transitions to the knob feature.  From the samples we've measured, this value will fluctuate approximately +/- .005". 
We are able to add a tactical bolt knob installation to this service, however the smallest pocket feature closest to the knob is deleted.  This is to preserve handle strength where the knob installs.
This service is available for both Right and Left hand versions of the M700, M7, 40x, and XP(converted to the late model handle).
---
We Also Recommend