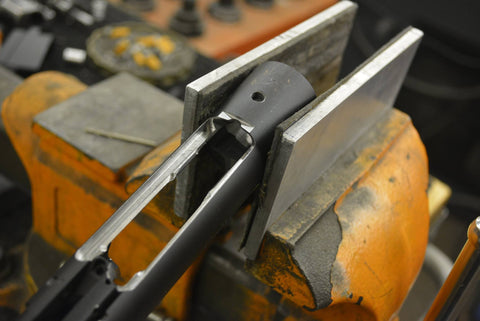 GUNSMITHING SERVICES: AIAW Magazine well modification to Rem M700 Receiver
Accuracy International's introduction of the Arctic Warfare magazine allows shooters the convenience of higher capacity while observing the need for a compact footprint.  The staggered stack, staggered feed arrangement means less magazine exposure.
Our machining procedure is completely automated.  We have taken extra care to remove as little as possible from the receiver.  As the photos illustrate the contour of the magazine's feedlips are mirrored into the rails on the action.  This is done with surface machining.  
Soon after their release, shooters were requesting to have M700 actions modified to accept these magazines.  It's become a popular upgrade as it can be done without incurring additional stock work in most instances.
This modification however does have some side effects.  It involves invasive machine work.  You as the shooter must understand that having this done means that significant material is removed from the receiver.  This is a "one way trip" as it is not possible to restore the receiver to its original configuration.  This should be considered prior to having the service performed.
---
We Also Recommend