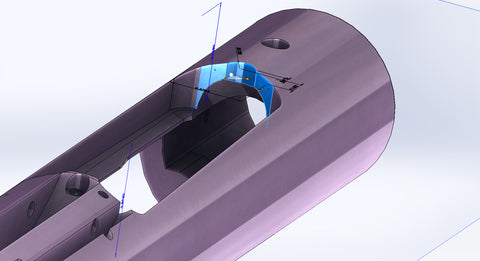 GUNSMITHING SERVICES: ARC Magazine well modification to Rem M700 Receiver/ARC Mausingfield
American Rifle Company's introduction of their 10 round magazine allows shooters the convenience of higher capacity while observing the need for a  more compact footprint.  The staggered stack, center feed behavior allows for a compact means of delivering ammunition to the rifle.
ARC magazines use a feed lip geometry optimized for control round feed actions like the Mausingfield.  They also work well with push feed actions such as the Remington M700.  Early generation Mausingfields (serial numbers containing M5 "A" or "B" revision designations) however predate the magazine design and will frequently encounter problems.  The tips of the bullets will contact the bottom portion of the receiver when taking full advantage of the magazines allowable COAL.  M700's also suffer from this.
Machining this feature is slightly more complicated than the well known "AI cut" performed on M700's where a notch is machined at the 6 o'clock position of the receiver at the lowest point of the feed ramp. 
The ARC magazine feedlip geometry moves the cartridge in an arc as they transition from the box sidewalls to the up/center position where the case head presents to the bolt nose.  Because of this a single notch on center won't provide sufficient clearance.
Our machining procedure is completely automated.  We have taken extra care to remove as little as possible from the receiver's critical lower feed ramp feature while also ensuring that we deliver a function alteration.
---
We Also Recommend