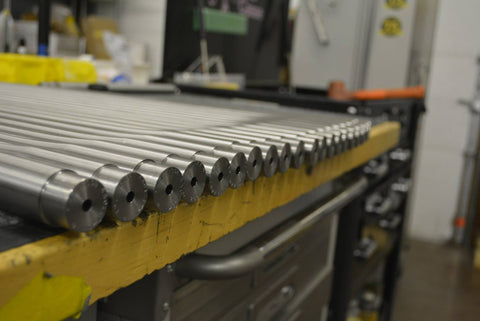 CUSTOM BARREL BLANKS FROM K&P Barrel Company
LRI is a proud sponsor of K&P Barrel Company located right here in the Black Hills of South Dakota.   K&P is owned by Ken Johnson, a man with 4 decades of barrel making experience and a long pedigree in the 50 caliber benchrest community.  K&P Barrels often overwhelm the equipment list in the big bore BR events.
K/P barrels are single point cut rifled using conventional land/groove profiles.  They feature honed bores and are made from 416 Stainless Steel.   LRI has been using K&P barrels since 2014 and they've proven themselves to be a well made piece that is both predictable and reliable.   From a machinist perspective they work very well.  The grade of material and hardness chosen by K&P demonstrates excellent machining behaviors both on the lathe and the mill.
These are the exact same barrels we use on the majority of our full builds and on many of our sponsored shooter's rifles.  Guys like Jake Vibbert and The O'Neill Ops crew have all enjoyed successful LRI rifles built on K&P "sticks."
 
LRI is extremely proud to be the exclusive distributor for K/P barrels.  Our close proximity  puts us in a rare and powerful position to have both direct contact with the barrel manufacturer and the client.  It ensures the relationship is personal and face to face.  
 
The LRI/K&P difference:
In addition to a great shooting barrel, you are buying the LRI reputation for sterling customer service.  In the unlikely event a barrel fails to produce predictable performance you simply call us and we navigate the process of getting you a new one. 
It's really that simple.  
 
 


 
We are now stocking inventory.  
Rest assured, you are in good hands with K/P Barrel Company and LRI
NOTES:
*K&P Barrels*
K&P Barrel Company will build a barrel in your choice of twist rate, profile, etc. Common twist rates and contours are kept in stock, options that are out of stock will add approximately 2 weeks to delivery time.
Custom K&P Barrel Blanks are non-Refundable.
---
We Also Recommend