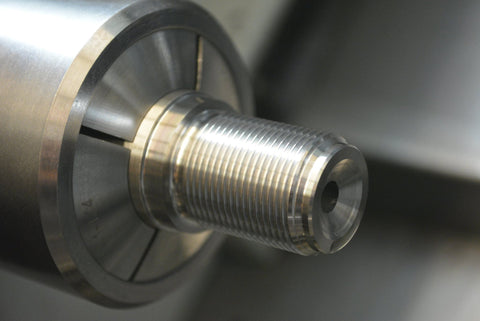 GUNSMITHING SERVICES: Barrel Fitting
PLEASE READ:
Barrel fitting is a very detail oriented process.  This page is meant as much to inform as it is to offer the service.  Please make it a point to contact us directly so that we can discuss your project in detail.  As we progress with this storefront we will migrate towards more automation where you'll be able to tailor your rifle completely through the site.  It's coming, but it won't happen instantly as the structure is fairly intensive.  PLEASE CALL PRIOR TO ORDERING  605.490.2561 is our direct line.  We are open for calls M-S 8am to 4pm MTN Time.
Thank you!
LRI is a pioneer in the use of Automated Computer Controlled Machining centers for precision barrel fitting.  Our roots in this process began in 2003.   LRI's process uses the best of what modern machining resources has to offer.  Barrel tennons are machined to size with bright surface finish to deliver a silky smooth fit when mated to the receiver.
Important notes to consider:
On OEM standard switch barrel applications such as Accuracy International products, all threads are certified with traceable hard chromed ring gauges of appropriate thread classification.  
We qualify the headspace gauge exposure with routinely calibrated instrumentation to ensure headspace meets the safe and appropriate tolerance specified by the Sporting Arms and Ammunition Manufacturers Institute (SAAMI)
"Wildcat" or hybrid cartridges that involve fire forming to alter the shoulder position/angle are often tailored specifically to the type of brass you plan to use.  It has been our experience that domestically produced cartridge cases run to the smaller side of SAAMI specification and European manufactured brass leans towards the bigger end.  None of this is bad so long as the barrel's chamber is setup accordingly.  To promote good brass life it we will optimize the headspace dimension specific to the brass being used.  Doing so helps you because it mitigates case stretch in the critical web area of the cartridge while also ensuring the rifle will safely chamber the cartridge.
Tikka actions:
Tikka T3 actions are narrower than most others and the heavy chamfer feature on the receiver ring limits the barrel cylinder diameter to 1.150".  This is no problem on conventional "all steel" barrels typically used.  We simply contour the cylinder OD to the appropriate dimension. 
Carbon fiber wrapped barrels cannot be contoured this way.  They are designed to be "as is" when fitted.  If you are planning to barrel your Tikka action with a carbon wrapped barrel ENSURE you order your barrel with the appropriate cylinder diameter from the manufacturer.   LRI will not under any circumstance recontour a carbon wrapped barrel as it creates a serious safety concern and voids any manufacturer's warranty.
Every barreled action or rifle fitted by LRI is test fired prior to leaving our facility.  That 1st round is then cataloged and archived.  This is for mutual benefit and it is a standard quality control policy here at LRI.
Our chambers are machined on size, concentric/tangent to the bore, and free of surface inclusions.  We hone our chambers to a 320 grit finish.  We've found this answers the need for a chamber to function smoothly and deliver the important "bite" on the chamber wall to minimize brass flow/case growth. 
Barrel crowns are single point machined and come in a choice of a traditional 11* target crown or the recessed "hunter" style shown here.  It's been our experience that neither offer any performance advantage over the other.
 We have a great compliment of chamber reamers in our tool library that can be viewed here in Excel format.  Certain cartridge listed are in hyperlink form.  These links will direct your internet browser to additional source information regarding the cartridge.  It's intended to aid in your selection process.
Chambering the rifle barrel:
Every LRI reamer is custom made to our specifications. Our tooling is made to a very specific and unique format.  For specialty cartridges where we do not have a tool in our library, we are more than happy to order it for you.   Our standard practice is to offer our "reamer charge" where we will pay for 50% of the tool's cost.  
The understanding is the tool and the gauge become the sole property of LRI.
LRI uses a very unique and specialized cutter geometry.  It is one that we developed in house and have used successfully since 2012.  
If your project involves a wildcat or variation of a standardized cartridge, please contact LRI directly to discuss the details of what you'd like to do.
CURRENT LEAD TIME: Varies by job and available parts
---
We Also Recommend