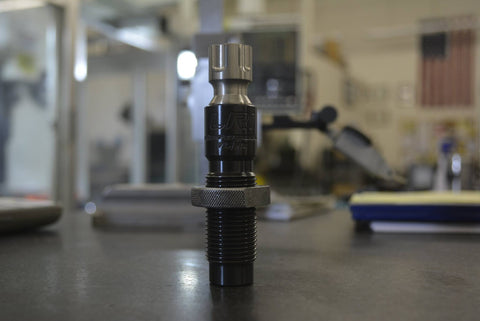 6mm Competition Match Sizer Die
LRI's 6mm Competition Match Sizer Die is a Full Length, Neck Bushing Resizing Die made from annealed 4140 Chromoly.  The die is then Ferritic Nitro Carburized to 65 Rockwell C on the shell.  This makes for a very hard and slick exterior but with a tough and durable core structure.  The die is for full length resizing of cases.  Use of a Redding or Wilson neck bushing allows for tunable neck tension when seating the bullet.  A high quality Hornady split adjustment ring is included.  Bushing caps are made from stainless steel.
*This die is toleranced for Norma and Lapua brass.
*Use a conventional 243 Winchester Seater Die seating bullets.
Background:
The 6mm Competition Match is wildcat cartridge based on the 243 Winchester. Manufacturing ammo requires fire forming.  Once reloaded to proper specifications it is capable of velocities in excess of 3200fps with 105 and 115 weight class 6mm projectiles with single based, magnum burn rate propellants.  With double based propellants like RL26 we have seen velocities in excess of 3400fps!
The intent of the 6mm CM cartridge is to offer a high performance, "higher mileage" alternative to more mainstream 6mm's known for poor barrel life.  This cartridge is considered by many to be tailor made for NRA and PRS style competitive shooting.  With proper hand loads, barrel life can easily exceed 3,000 rounds on a cut rifled barrel.