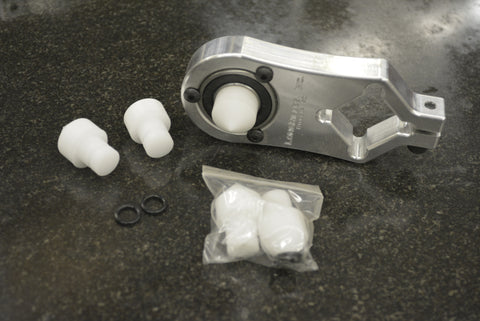 LRI Replacement Barrel Spinner Centers
LRI's replacement centers are made from Delrin.  We chose Delrin because it won't damage a rifle barrel crown or chamber.  Brass has been used in the past and we've found that it can very easily damage a precision machined target crown.  It can also transfer/smear onto a surface and lead to finishing problems when bluing or parkerizing.   
The consequence of Delrin is that it does wear out sooner than brass.  We make our centers with extra material on the business side so that they can be resurfaced in the lathe.  Doing so prolongs the service life although they do wear out with time. The O ring offers a slip fit into the bearing ensuring that the centers don't fall out when not in use.
*Tip:  Avoid aggressive sanding that heats up the barrel.  Especially around the crown area when blending a thread protector or brake.  This will cause the center to melt and it'll be ruined very quickly.
---
We Also Recommend